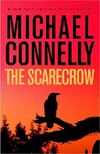 The Scarecrow is the twentieth novel written by Michael Connelly, and the fourth novel featuring reporter Jack McEvoy, as well as the fifth featuring FBI agent Rachel Walling. The book was published on 12 May 2009, and is one of two sequels to The Poet; the novel is also accompanied by the video short-story Conflict of Interest.
Forced out of the Los Angeles Times amid the latest budget cuts, newspaperman Jack McEvoy decides to go out with a bang, using his final days at the paper to write the definitive murder story of his career. He focuses on Alonzo Winslow, a 16-year-old drug dealer in jail after confessing to a brutal murder. But as he delves into the story, Jack realizes that Winslow's so-called confession is bogus. The kid might actually be innocent, and Jack is soon running with his biggest story since The Poet made his career years ago. He is tracking a killer who operates completely below police radar – and with perfect knowledge of any move against him. Including Jack's.
Ad blocker interference detected!
Wikia is a free-to-use site that makes money from advertising. We have a modified experience for viewers using ad blockers

Wikia is not accessible if you've made further modifications. Remove the custom ad blocker rule(s) and the page will load as expected.