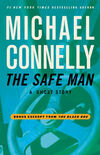 "The Safe Man: a Ghost Story" is a novelette written by Michael Connelly, featuring safe-cracking specialist Brian Holloway.
The story was first published anonymously in the 2005 anthology The Secret Society of Demolition Writers, and was later released electronically for the Amazon Kindle on 23 October 2012.
Ad blocker interference detected!
Wikia is a free-to-use site that makes money from advertising. We have a modified experience for viewers using ad blockers

Wikia is not accessible if you've made further modifications. Remove the custom ad blocker rule(s) and the page will load as expected.