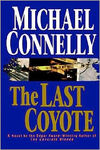 The Last Coyote is the fourth novel written by Michael Connelly, and the fourth to feature LAPD detective Harry Bosch. The book was published in June of 1995, and won the 1996 Dilys Award.
Connelly stated in a 1999 interview that he had at one time considered ending the Bosch series with Last Coyote because "the story seemed appropriate to wrap the series up with."
Lost Chapter
Edit
A lost chapter titled "1961" was written by Connelly during the writing on Last Coyote, but never made its way into the manuscript. The chapter, running 1,305 words in length, was made available through Connelly's website on 30 January 2013.
Ad blocker interference detected!
Wikia is a free-to-use site that makes money from advertising. We have a modified experience for viewers using ad blockers

Wikia is not accessible if you've made further modifications. Remove the custom ad blocker rule(s) and the page will load as expected.