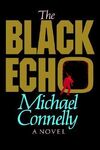 The Black Echo is the first novel written by Michael Connelly, and the first to feature LAPD detective Harry Bosch. The book was published on 21 January 1992, and won the 1993 Edgar Award (First Novel). Black Echo was also nominated for the 1993 Dilys Award, but lost to John Dunning's Booked to Die.
The book was dedicated: "This is for W. Michael Connelly and Mary McEvoy Connelly."
Within the continuity of Connelly's fictional Los Angeles, the book was a nonfiction account of the investigation that was ostensibly written by Western novelist Eli Cash and television producer Henrik Bastin. A copy of the book was kept by Bosch on his bookshelf, as was a poster of the movie made based on the story.
Harry Bosch finds a body in the drainpipe at Mulholland Dam. The dead man, Billy Meadows, was a fellow Vietnam "tunnel rat" who fought side by side with him underground. Now, Bosch is about to relive the horrors of Nam. From a dangerous maze of blind alleys to a daring criminal heist beneath the city to the tortuous link that must be uncovered, his survival instincts will once again be tested to their limit.
Major Characters
Edit
Appearances
Edit