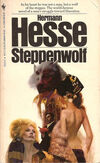 Steppenwolf is a 1927 novel written by Hermann Hesse.
Harry Bosch read the book after briefly meeting his father, J. Michael Haller, in 1970, prior to joining the Los Angeles Police Department. Haller mentioned the book to Bosch because Bosch would have shared the name of Hesse's protagonist – Harry Haller – had he taken his father's surname.
Appearances
Edit
Ad blocker interference detected!
Wikia is a free-to-use site that makes money from advertising. We have a modified experience for viewers using ad blockers

Wikia is not accessible if you've made further modifications. Remove the custom ad blocker rule(s) and the page will load as expected.