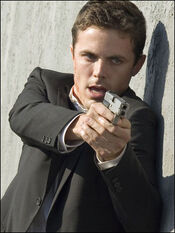 Patrick Kenzie (b. 1965) is a private investigator in Boston, Massachusetts, and the partner of Angela Gennaro. He carries a .45 Colt Commander.
In 2005, Kenzie encountered Los Angeles Police Department cold case detective Harry Bosch while staking out the residence of Edward Paisley. He and Bosch subsequently rescued 12-year-old Chiffon Henderson from the house, incapacitating Paisley in the process.
Portrayal
Edit
Kenzie was played by Casey Affleck in the 2007 film Gone Baby Gone.
Kenzie was created by author Dennis Lehane, who appeared with Michael Connelly in the Castle episode "The Dead Pool."
Appearances
Edit
Ad blocker interference detected!
Wikia is a free-to-use site that makes money from advertising. We have a modified experience for viewers using ad blockers

Wikia is not accessible if you've made further modifications. Remove the custom ad blocker rule(s) and the page will load as expected.