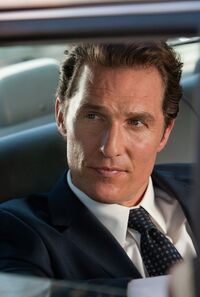 J. Michael "Mickey" Haller, Jr (b. 1965) is the son of J. Michael Haller and a B-level Latin actress, the half-brother of LAPD detective Harry Bosch, the ex-husband of Maggie McPherson and Lorna Taylor, and the father of Hayley Haller.
He also has three sisters, and another half-brother. He attended his father's funeral at Forest Lawn in 1970 with his sisters, and is significantly younger than his half-brother, Bosch. While Bosch was an adult upon meeting their father, Mickey was only five years old when the elder Haller died. Little is known of Haller's childhood other than the death of his father at a young age, and his inheritance of his father's Colt Woodsman .22 pistol.
Like his father, he is a criminal defense attorney in Los Angeles, and is a staunch opponent of the death penalty, claiming that "an enlightened society [does] not kill its own." He is from a family of attorneys. In addition to his father, other lawyers in the family include his half-brother, a niece and a nephew.
In 1992, Haller represented Barnett Woodson, and won acquittal in a case against prosecutor Jerry Vincent, who subsequently left the District Attorney's office to open his own defense practice. In 1993, he represented Raynard Waits, negotiating a plea agreement that gave his client an eighteen month probation sentence. Later in the year, Haller married prosecutor Margaret McPherson, and in 1995, he left the Public Defender's office to open his own private defense firm. During that time they lived in an apartment on Dickens Street in Sherman Oaks. He and McPherson had a daughter, Hayley Haller, in 1997, but subsequently divorced in 2001 while remaining amicable. After their divorce Haller moved out of the apartment and bought a house on Fareholm Drive in the Hollywood Hills. In the wake of his divorce, Haller married his own case manager, Lorna Taylor, but that marriage ended quickly as well when the two divorced in 2002.
Haller has employed the services of two private investigators for his trials. The first, Raul "Mish" Levin was murdered in April of 2005; his nickname "Mish" was bestowed upon him by Haller after Haller learned of his mixed Mexican-Jewish ancestry. His second investigator, Dennis "Cisco" Wojciechowski, was hired after Levin's death, and dated Lorna for a year before proposing to her in November of 2007.
In 2003, Haller represented Jesus Menendez after Menendez was arrested for the rape and murder of stripper Martha Renteria. The prosecution had DNA evidence and witnesses who said they saw Menendez throw a knife into the L.A. River. Haller convinced Menendez to accept a plea deal that would incarcerate him for life in order to prevent the prosecution from seeking the death penalty, and Menendez eventually agreed despite insisting on his innocence. He was serving his sentence at San Quentin State Prison. Haller said this was his twelfth murder trial and all twelve were in prison, but none were on death row.
In March of 2005, Haller represented Louis Roulet after Roulet was arrested for the attempted rape and attempted murder of escort Regina Campo. In the process of investigating the case in order to build Roulet's defense, Haller discovered aspects related to the Menendez case, and Haller's private investigator Raul Levin found evidence that linked Roulet to Renteria. Roulet broke into Haller's house and stole his Colt Woodsman. Levin was murdered with that gun before he was able to pass his evidence on to Haller. After Levin's murder, Haller knew that his client was guilty of the assault on Campo and the murder of Renteria, presenting him with a tough ethical dilemma. Haller resolved this by devising a strategy that would acquit Roulet in the current case while setting him up for prosecution in the Renteria case and thereby clearing Menendez. The strategy consisted of having Gloria Dayton talk to a secret prosecution witness who was in a lockup drug rehab with her.
Prosecutor Ted Minton, fearing that his case was weak, called the secret witness to testify against Roulet. The witness falsely claimed that Roulet had confessed to him that he had assaulted Campo, but he also mentioned details related to the Renteria murder as he had been instructed by Haller via Dayton. It is not clear whether Haller had offered the witness money for this additional testimony, but it seems likely. After exposing that the witness had lied in a previous case in Phoenix, Haller succeeded in getting the D.A.'s office to drop all charges against Roulet, but the witness's mention of the Renteria case was enough to get the attention of LAPD detectives. Roulet was released in the Roulet case but then immediately arrested by detective Howard Kurlen for the Renteria murder.
Later that night, Roulet was released again in a police plan to use Haller as bait, believing that Roulet would try to kill him next. Instead, Roulet went to McPherson's apartment and was arrested there. Roulet's mother, Mary Windsor, went to kill Haller using the stolen Colt Woodsman. Windsor shot Haller in the stomach but he shot back, killing her just as detectives arrived.
All did not go well for Haller afterwards. Menendez was subsequently released from prison and sued Haller for legal malpractice. He learned that Menendez contracted HIV in prison, and guilt about his handling of Menendez's case weighed heavily on him. In addition, he was sanctioned by the bar for Conduct Unbecoming an Attorney. On the positive side he felt good about getting Menendez out of prison and getting Roulet into prison.
Haller suffered a hernia as a result of his gunshot wound, and underwent surgery to correct the protrusion. The surgery went poorly, however, and Haller successfully sued the hospital for medical malpractice. Following his surgery, he became addicted to OxyContin, and eventually checked into the Laurel Canyon Recovery Center in 2006 to kick his habit. His legal practice was dormant for a year.
In November of 2007 when Haller was preparing to resume work, he was summoned to the chambers of Judge Mary Holder and informed that fellow criminal defense attorney Jerry Vincent had been murdered, and that Haller had thereby inherited Vincent's law practice, which amounted to 31 clients including film producer Walter Elliot. Harry Bosch, was lead investigator in Vincent's murder. The Elliot case was a huge opportunity for Haller with a potential fee of $250,000. Another client he picked up was Patrick Henson who he hired as a driver. He retained Cisco as his full-time investigator.
As he came up to speed on the Elliot case, he learned that Vincent believed he had a "magic bullet" for the defense but he left no information about this in his files. While Haller was focused on the Elliot case, he was also concerned about the murder of Vincent. He could not allow Bosch direct access to Vincent's files, but he provided what information he could, mainly in regards to clients who had made threats against Vincent. Bosch looked into these and ruled them out. Haller then learned that Vincent had a mysterious pro bono client, Eli Wyms, with no file and a strange case history. Haller realized the Wyms could have been the "magic bullet." Vincent had already lined up a national expert on gunshot residue, Dr. Shamiram Arslanian, and she became the key witness in Haller's defense strategy.
Two things blew the Elliot case wide open. First, Cisco's investigations revealed that Juror number 7, David McSweeney, was not who he claimed to be. Haller wrote an anonymous note to Judge Stanton to that effect. Secondly, Elliot admitted his guilt to Haller during a dinner meeting at the Water Grill. The outcome was that Elliot and Nina Albrecht were killed by the family of Johan Rilz, making the trial moot. Hours later, McSweeney tried to kill Haller but was arrested by Bosch and FBI agents.
Haller realized that both the jury fix and the murder of Vincent had been a conspiracy engineered by Judge Holder. He was thoroughly disenchanted with law and decided he would quit. He also realized that Bosch was his half brother, a fact that Bosch had known for some time.
In his private life, Haller continued to try to improve his relationship with his ex-wife. His daughter stayed with him on Wednesdays and every other weekend. On Wednesday nights they would go to Dupar's Restaurant, and she always ordered pancakes. However, Hayley wished that her dad was putting bad people in jail instead of getting them out.
In September of 2009, Haller was contacted by Harry Bosch to serve as the detective's personal lawyer when investigators with the Hong Kong Police Force questioned him about the shooting of Eleanor Wish at the Chungking Mansions and the murder of the Qingcai family. He later suggested that Hayley and Madeline should meet, but Bosch stalled on the proposition.
On 9 February 2010, Haller was approached by Gabriel Williams and offered the opportunity to prosecute recently-released Jason Jessup in a retrial for the 1986 murder of 12-year-old Melissa Landy. Haller accepted the job on the condition that McPherson serve as his second chair (and that McPherson get transferred from the courthouse in Van Nuys to the District Attorney's office downtown in Jessup was reconvicted) and LAPD detective Harry Bosch serve as his investigator.
In February of 2011, Haller represented Lisa Trammel after she was arrested for the murder of banker Mitchell Bondurant. In April of 2011, Haller filed to run for the office of District Attorney of Los Angeles, but in 2012, he lost "in scandal and self-destruction" when a former client, who had previously escaped a DUI charge under Haller's representation, killed two pedestrians. He later sought out his father's former law partner and strategist, David Siegel.
In later 2013, Haller was contacted by Andre La Cosse, who was accused of murdering a high-end escort, and accepted the case when he discovered that the murder victim was his own former repeat client Gloria Dayton.
Connelly based Haller largely on Gainesville, Florida defense attorney Daniel F. Daly (who lent his name to a character in the Haller novels), with whom Connelly graduated from the University of Florida's journalism program before Daly began praticing law.
Daly actually told Connelly that "there is no client as scary as an innocent man," and the line became the epigraph (attributed to J. Michael Haller) of the Lincoln Lawyer. Haller's work method was based on a conversation that Connelly had with attorney David Ogden at Dodger Stadium, who worked out of the backseat of his car with a client as a driver.
Portrayal
Edit
Haller is played by Matthew McConaughey in the 2011 film.
Appearances
Edit