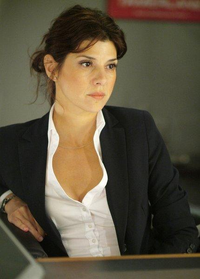 Margaret "Maggie McFierce" McPherson is the first ex-wife of defense attorney Mickey Haller, the mother of Hayley Haller, and a prosecutor with the Los Angeles County District Attorney's Office.
She and Haller divorced due to their careers being opposite each others: Haller was defending criminals, while McPherson was attempting to prosecute them. They share joint custody of their daughter.
When Maggie's ex-husband was appointed as a special prosecutor to overturn the exoneration of Jason Jessup, a convicted child-murderer who was freed after DNA evidence cleared him of wrongdoing, Maggie was named along with Mickey's half-brother, Detective Harry Bosch, to the team to prosecute Jessup.
On 12 October 2011, Maggie was assigned the prosecution of serial killer Chilton Hardy, Jr.
Portrayals
Edit
McPherson is played by Marisa Tomei in the 2011 film.
Appearences
Edit