Lester Poole was a gun technician with the Los Angeles Police Department's ballistics division.
He refuses to be called by the nickname Les, fearing that being known as "Les Poole" would eventually lead his coworkers to call him "cesspool."
In October of 1995, Poole ran the ballistics on bullets retrieved from the skull of Anthony Aliso and matched them to a gun found in the home of Luke Goshen.
Portrayal
Edit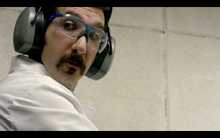 Poole was played by David Lengel in the second season of the streaming series Bosch.
Appearances
Edit
Ad blocker interference detected!
Wikia is a free-to-use site that makes money from advertising. We have a modified experience for viewers using ad blockers

Wikia is not accessible if you've made further modifications. Remove the custom ad blocker rule(s) and the page will load as expected.