Julia Brasher (b. 1967; d. Jan 2002) was the daughter of Frederick Brasher, an officer with the Los Angeles Police Department, and a native of Bel Air.
She joined the Department late, at the age of 34, after having practiced civil law for some time at her father's law firm and then traveling the world.
On 1 January 2002, she and her partner were called to the Laurel Canyon residence of Dr. Paul Guyot after Guyot reported that his dog had found a human arm bone.
A week later, Brasher was shot and injured by her own service weapon while pursuing Johnny Stokes through a parking garage.
Portrayal
Edit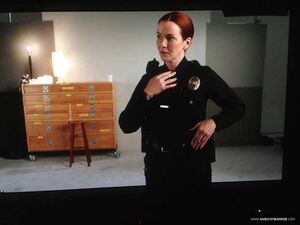 Brasher is played by Annie Wersching in the 2015 streaming series Bosch.
Appearances
Edit