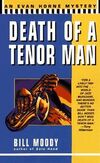 Death of a Tenor Man is a crime novel written by Bill Moody, and the second featuring amateur detective Evan Horne.
Buddy Lockridge read the book while waiting for Terry McCaleb in April of 1998.
Appearances
Edit
Ad blocker interference detected!
Wikia is a free-to-use site that makes money from advertising. We have a modified experience for viewers using ad blockers

Wikia is not accessible if you've made further modifications. Remove the custom ad blocker rule(s) and the page will load as expected.