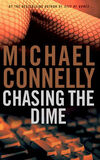 Chasing the Dime is the twelfth novel written by Michael Connelly, and the first (and, currently, only) novel featuring entrepreneur Henry Pierce. The book was published November of 2002.
The novel's title is a phrase used by Pierce and his associates in reference to their pursuit of a molecular computer the size of a dime. The title may also refer to Pierce's pursuit of the missing woman whose phone number he inherited, since the slang term "dime" can be used to describe a beautiful woman (a perfect 10).
Continuity
Edit
Ad blocker interference detected!
Wikia is a free-to-use site that makes money from advertising. We have a modified experience for viewers using ad blockers

Wikia is not accessible if you've made further modifications. Remove the custom ad blocker rule(s) and the page will load as expected.