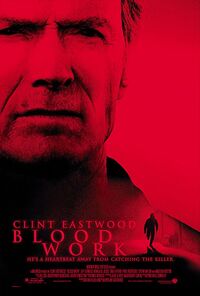 Blood Work is a film adaptation of Michael Connelly's seventh novel, scripted by Brian Helgeland and released on 9 August 2002.
The film was directed by Clint Eastwood, who also portrayed FBI criminal profiler Terry McCaleb.
While Harry Bosch was investigating the murder of Howard Elias, he saw a bus stop with an advertisement for this movie, neatly connecting reality with fiction.
Appearances
Edit
Ad blocker interference detected!
Wikia is a free-to-use site that makes money from advertising. We have a modified experience for viewers using ad blockers

Wikia is not accessible if you've made further modifications. Remove the custom ad blocker rule(s) and the page will load as expected.